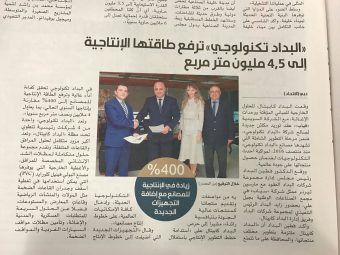 AL-ITIHAD journal writes about FIAB & AL-BADDAD
30-1-2017
FIAB & Al-Baddad Technology - production capacity will increase up to 4.5 million m2 per year
Al-Baddad Capital, who provides external solutions for temporary buildings and rescue units signed a contract with FIAB, which includes the supply of new machinery for Al-Baddad Technology. Since mid 2016 Al-Baddad factories have seen significant developement and are keeping up to date with the latest technologies in order to deliver world-class quality products.
Al-Baddad CEO – Dr. Fatin Al Baddad and Mr Marcin Lerner , Commercial Director at FIAB, in the presence of Mr Zayed Al-Baddad, Executive Director at Al-Baddad Group signed a new agreement at Jebel Ali Industrial zone for the delivery of a group of leading technology high frequency welding machines.
Mr Fatin Al-Baddad stated that Al-Baddad Capital is engaged in the development, and providing highest quality products, he emphasized that Al-Baddad Capital has significant interest in the development of its production utilizing modern technology and implementing global solutions within their production lines.
The New FIAB devices achieve high efficiency and allow Al-Baddad Technology to increase their production capacity up to 400% in relation to current annual production, which is equal to an astonishing 4,5 million square meters per year!