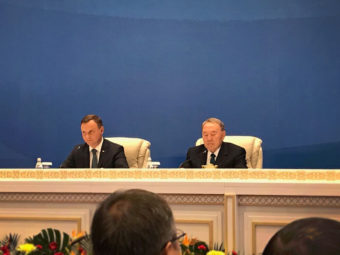 EXPO 2017, Polish-Kazakh Economic Forum
7-9-2017
As our company FIAB participates in the Polish-Kazakhstan Economic Mission, we are happy to share with you the impressions of the Polish-Kazakh Economic Forum, which took place on September 6, 2017.
The Forum was the highlight of the Polish economic promotion at the end of the International Exhibition Expo 2017 in Astana. Entrepreneurs from both countries represented nearly 250 companies. The event was attended by the Presidents of Poland and Kazakhstan – Andrzej Duda and Nursultan Nazarbayev.
During the Forum FIAB was represented by Marcin Lerner – Commercial Director of the FIAB company.
Ministry of Development, Polish Agency for Enterprise Development, Polish Agency for Investment and Trade and National Chamber of Commerce invited to participate in the economic mission to Kazakhstan organized in connection with the Polish-Kazakh Economic Forum. Invitations were addressed mainly to entrepreneurs, representatives of central and regional administration and members of business environment institutions.
On the same day, the Presidential Couple – President Andrzej Duda accompanied the First Lady to flower in front of the monument commemorating Polish victims of the camp and in front of the plaque dedicated to all prisoners. In ALŻIR camp, located about 30 km from Astana, in the Soviet Union, were being held women whose husbands were considered "enemies of the people". ALŻIR in Russian abbreviation means The Akmolińsk Camp for Wives Motherland Traitors. Akmolińsk is the former name of Astana, which became the capital of Kazakhstan in 1998. To ALŻIR went also Yevgeniy Shulgin, a representative of FIAB on the Russian-language markets.
We encourage you to read the article and see the photoreport at this link.
Back