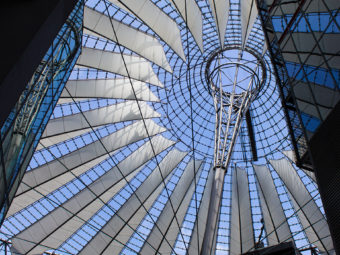 FIAB at workshop – Textile Roofs 2017
18-5-2017
Between 15-17 od May, took a place the International Workshop on the Design and Practical Realisation of Architectural Membrane Structures - Textile Roofs 2017.
Just a few days after Techtextil fairs in Frankfurt our representatives – Yevgeniy Shulgin, Wojciech Staniszewski, Krzysztof Skorupski and Magdalena Olma show on at Textile Roofs 2017 workshop, that held place in Archenhold Observatory in Berlin.
The whole event started with a tour of the most famous membrane structures in Berlin. We have seen the roof of the Olympic Stadium and Sony Center in Berlin.
During the following days in Archenhold Observatory assembly hall there took a place lectures inter alia conducted by FIAB representative – Wojciech Staniszewski, a representative of Lommeta company – Andrej Moroz and also by Vladimir Ermolov from Verteco.
Workshop participants had the opportunity to see a live show of welding by using the FIAB900 CLS machine. All of them have been actively involved in the physical creation of the tensioned structure, which you can see in the photos below.