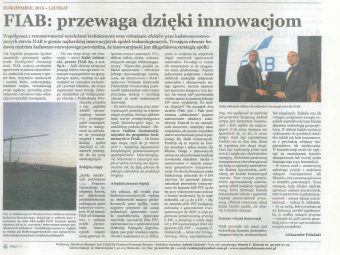 MONITOR BIZNESU – "FIAB: Advantage through Innovation"
22-12-2016
In today's edition of the Business Monitor there is published an article about the FIAB company. There you can read: "Cooperation with leading technical universities and implementation of results of research and development puts FIAB among the most innovative technology companies."
ELECTRONIC VERSION OF PUBLICATION
We encourage you to familiarize yourself with article, there you can find statements and comments of CEO – Rafał Jabłoński and Paulina Grabarczyk – Technical Project Engineer.