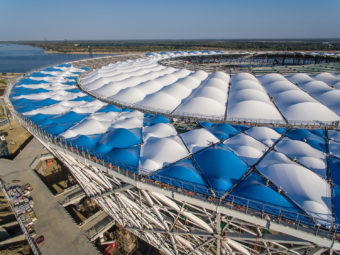 Volgograd Arena – Stadium built with FIAB machines
29-11-2017
In Volgograd, Russia, the Volgograd Arena stadium is being built since 2014. When it was time to finish the roof - the high frequency FIAB welders arrived.
The roofing membrane was made by Dovleti from Krasnodar, on the machines: FIAB 900 CLS, FIAB 900 and FIAB HPS. Part of the plating will be made of a membrane, and a small part of the inside – with glass.
This international stadium is built for the upcoming World Cup in 2018. It will be one of 18 entries where matches will be played at the FIFA World Cup Russia 2018.
The final of construction works is planned for the end of 2017.