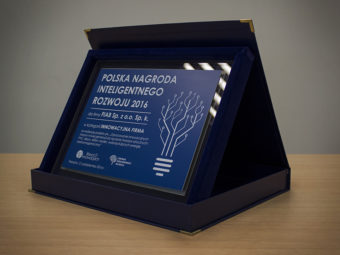 Polish Intelligent Development Award 2016 for FIAB Sp. z o.o. Sp. k.
2-11-2016
During this year's Intelligent Development Forum 2016, there was a reason for our representatives – President - Rafal Jablonski and Technical Project Engineer - Paulina Grabarczyk to join this event.
FIAB Sp. o.o. Sp.k. received award in the category: "an innovative company" for realization of the project: "Development of new generation innovative machines for joining plastics: PVC, silicone, teflon and ethylene, using electromagnetic energy".
Polish Intelligent Development Award 2016 is a prestigious distinction, that is response to the new perspective of EU 2014-2020.
Intelligent Development Forum consisted of twelve conference concerning topics: the efficient use of EU funds, innovative solutions for companies, etc. During the Forum there took a place debate about the innovative economy and intelligent development, and also about the most important challenges facing the Polish economy.