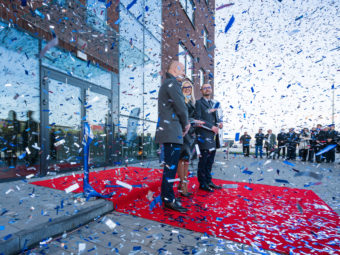 The Grand Opening of The FIAB Research and Development Center
17-11-2017
The FIAB Research and Development Center is officially open! b> The ceremony took place on November 16, 2017.
"We are unique mainly because there is no other object of the Research and Development Center in Poland to optimize machines and processes for joining plastics.
CBR's activities are concentrated in four areas:
1. Development of energy-saving power devices.
2. Testing and modification of equipment due to the emission of electromagnetic fields.
3. Development and testing of prototype machines.
4. Modification and development of new components for industrial automation."– about CBR FIAB speaks Rafal Jablonski, CEO of FIAB Sp. z o.o. sp.k.
The opening began with cutting the ribbon, with Magdalena Piasecka – Vice President of Wrocław, Karol Przywara – Director of the International Cooperation Department at the Marshal's Office, Rafał Jabłoński – CEO of FIAB.
Then invited guests and employees of CBR FIAB went to the R & D hall of Prototype Machines and Laboratory of electromagnetic fields and electromagnetic compatibility (PEM / EMC laboratory), where the presentation of measuring and laboratory equipment took place.
The culmination of this unique day in the FIAB's history was a banquet where honorary guests received souvenir gifts.
Back